Nob Hill Things to Do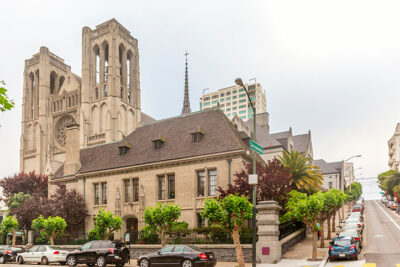 March 28, 2023
As one of San Francisco's signature neighborhoods, Nob Hill is best known for its luxurious taste, beautiful park, and several notable landmarks. Discover these things to do in Nob Hill during your stay at the Golden Gate Hotel.
Catch a live show at the Masonic
For a unique concert venue, check out the Masonic Theatre. This intimate concert hall brings the love of music alive in a theatrical and historical setting. Since its opening in 1958, this iconic landmark hosts a wide variety of musical and theater performances for locals and tourists alike.
Huntington Park
Rising out of the ashes from the 1906 earthquake, the Huntington Park was built and has stood ever since. Located in the heart of Hob Hill, this park is the perfect spot to stop and enjoy a beautiful day in San Francisco with its kid-friendly playground, park benches, and decorative fountain that anchors the park.
Grace Cathedral Episcopal Church
Next to Huntington Park is one of San Francisco's most iconic landmarks, the 
Grace Cathedral Episcopal Church
. The cathedral is a beautiful example of Gothic European architecture and is the third-largest Episcopal cathedral in the nation. Be sure to take the time to walk the indoor and outdoor labyrinths for a moment of quiet reflection.
Cable Car Museum
Check out the Cable Car Museum and learn more about the historical impact the cable cars had on San Francisco. The highlight for most is watching the actual cables turn, keeping the cars moving up the hilly streets of San Francisco. For more things to do in Nob Hill visit our blog 
here
. Enjoy all these things to do in Hob Hill when you 
stay at the Golden Gate Hotel
. We are a 10-minute walk to the center of Hob Hill, at Huntington Park, perfect for an afternoon stroll through the city.