Festivals, Fireworks, and other Events on 4th of July in San Francisco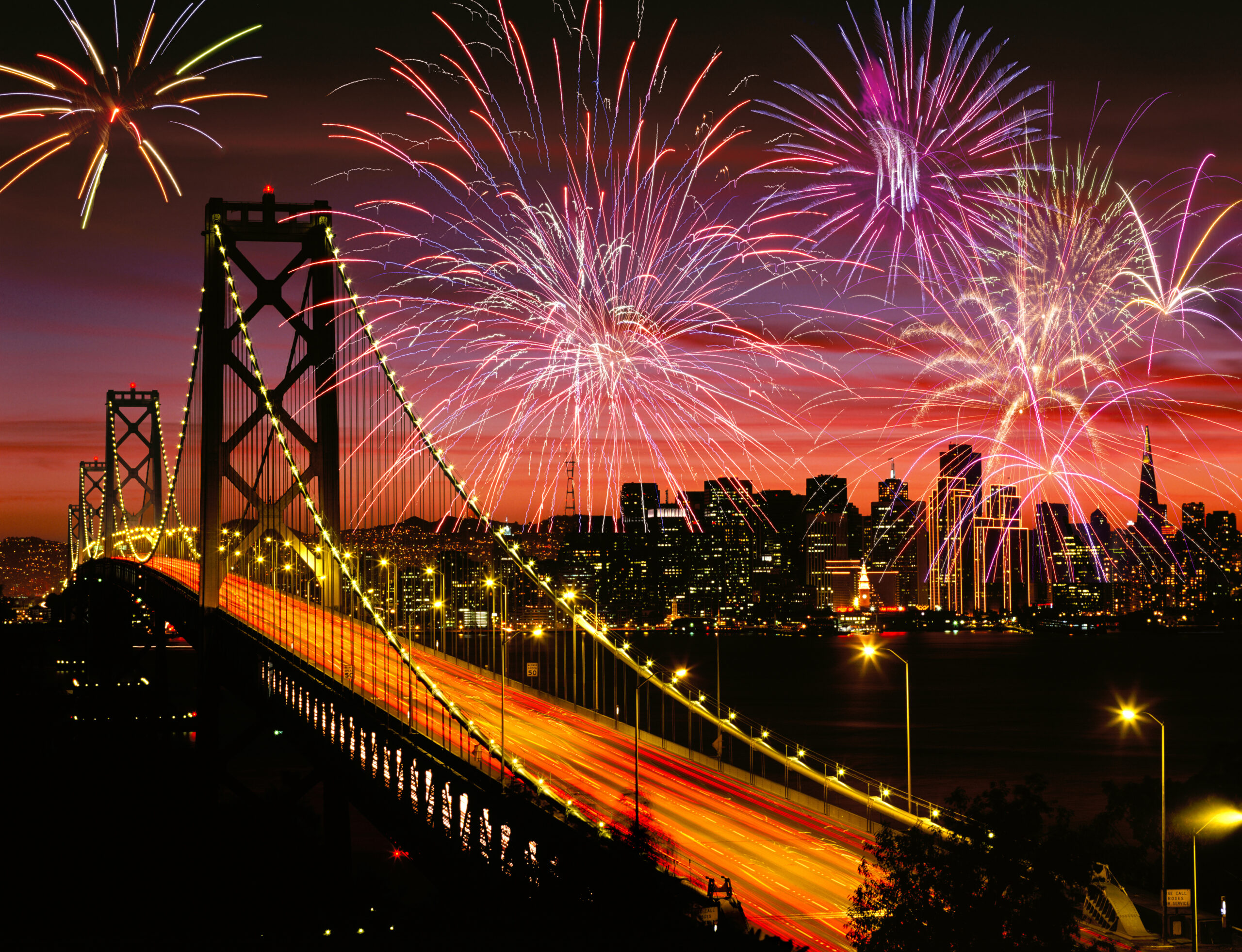 June 5, 2023
Visit San Francisco on 4th of July weekend and get firsthand experience of all the things that make this sprawling metropolis so great. Its eclectic neighborhoods, breathtaking vistas everywhere you look, the hot music scene, the diverse culture, the world-class cuisines… there is so much to love!
More than the firework shows and parades, 4th of July in San Francisco is a musical adventure. It's the community coming together to celebrate the sounds of the city. Whether that's the jazz tunes coming from Fillmore Street or just the sound of families laughing and having fun at Dolores Park, the air is filled with melodies that reflect the vibrant spirit of the Golden City.
Where to watch 4th of July Fireworks in San Francisco?
We're not going to lie. 4th of July fireworks in San Francisco are a hit-or-miss. Every year, the City & County of San Francisco holds a fireworks display along the Northern Waterfront. But San Francisco isn't also known as Fog City for nothing. So, while the city's annual fireworks display is spectacular, it's a matter of whether you can see it or not. You can watch them from: Pier 39, Aquatic Park, Crissy Field, Fort Mason, Bernal Heights Park.
Let's hope it's not foggy this year. But even if it is, that does not mean you can't have fun in the city on your holiday! All the other exciting 4th of July events and celebrations make up for it. 
4th of July events in San Francisco you shouldn't miss
View this post on Instagram
A celebration of San Francisco's jazz heritage, this annual 4th of July event in San Francisco could easily be just the one reason you need to visit the city on 4th of July weekend. The festival pays homage to Fillmore Street's rich jazz history, which dates back to the era of World War II when iconic musicians like Ella Fitzgerald, Duke Ellington, Count Basie, and Billie Holliday graced the street's jazz clubs. Over the years, the festival has become a symbol of the neighborhood's renaissance featuring renowned artists like Dr. Lonnie Smith, Denise Perrier, Kim Nalley, Pete Escovedo, and Brenda Boykin. 
To date, the Fillmore Street Jazz Festival is one of the largest free jazz festivals on the West Coast, drawing an impressive crowd of approximately 100,000 attendees each year. 
For over two days, on July 1st and 2nd, the festival transforms the Lower Pacific Heights neighborhood into a vibrant hub of musical brilliance as renowned jazz artists, as well as up-and-coming talents, perform across multiple stages throughout the event.
Spanning across an impressive 12 blocks of Fillmore Street, it's the ultimate festival experience with food trucks, gourmet food booths, arts and crafts stalls, and beer gardens ready to fill you more than you probably need to.
Stern Grove Festival
View this post on Instagram
Stern Grove Festival is giving it its A-game this year with such a phenomenal lineup, one of its best ever. Now on its 86th season, this free summer concert series at Stern Grove Park features a diverse lineup of artists from various genres. On July 2, you can catch SANTIGOLD and Ogi taking the stage. 
The event is free, but you have to reserve your tickets online through Eventbrite. Seating is on first-come, first-served basis, so come early to secure your spot! The concert starts at 2pm but some come as early as 8am to snag the best seats. You can bring picnic blankets no larger than 5×7ft and low-profile lawn chairs, but if you want comfort and convenience, you can pay for a VIP table. They are pretty expensive, though!
There will be food, drinks, and water bottle refilling stations available on the Festival grounds, but you can bring your own too. For more information, visit Stern Grove Festival's website. 
San Francisco Giants vs. Seattle Mariners at Oracle Park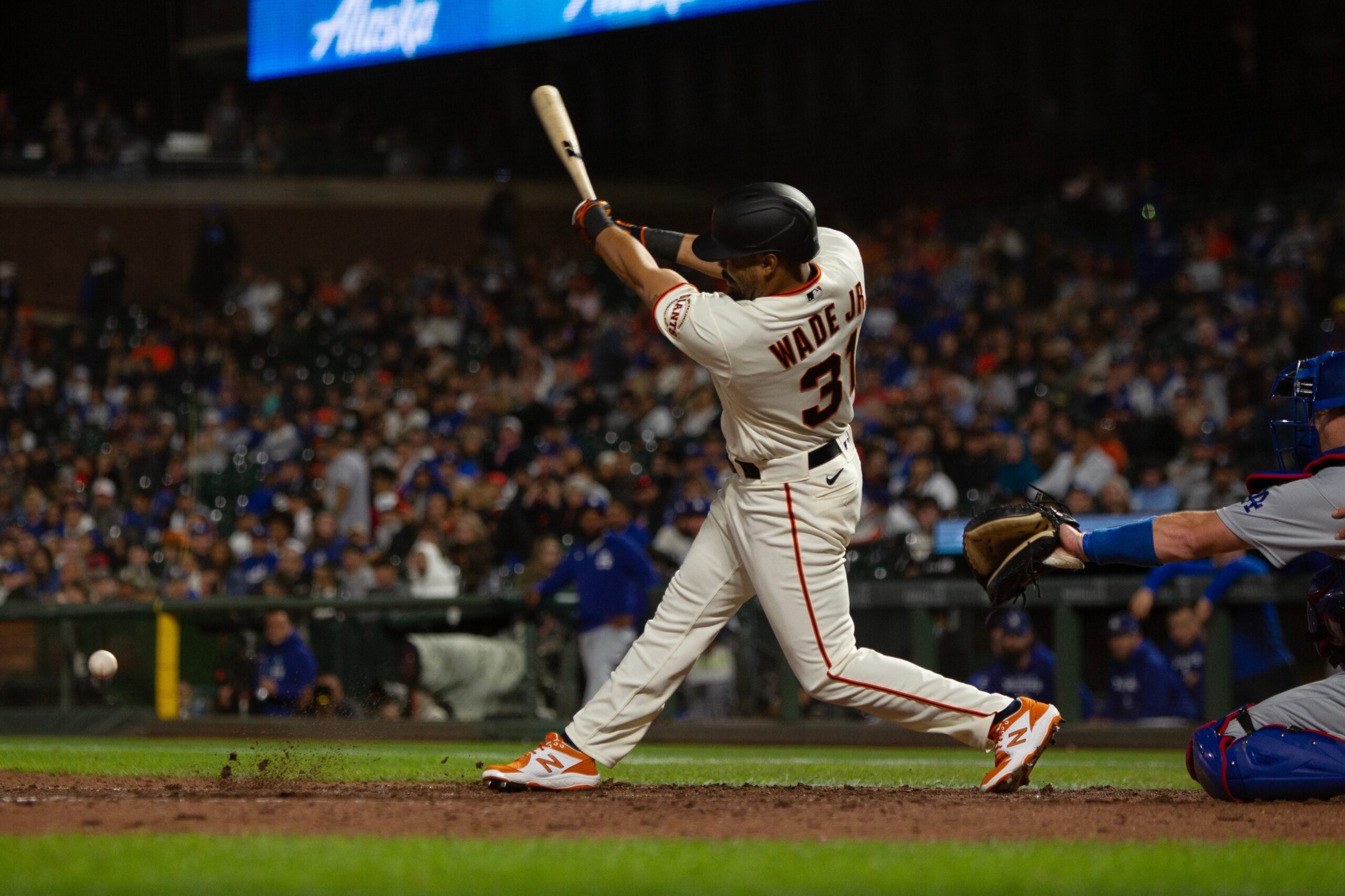 Whether you're a sports fan or not, you have to catch a Giants game at Oracle Park! They're playing against Seattle Mariners on July 3rd at 6:45pm or on July 4th at 1:05pm. Make time and make it happen. It's a quintessential San Francisco experience and you can't leave the city without doing it.
Must-do activities for 4th of July weekend in San Francisco
Join a free San Francisco walking tour
What better way to explore the city than by foot and with a knowledgeable guide ready to share the history as well as nice-to-know trivia about San Francisco's iconic landmarks and hidden gems? These free walking tours offer an excellent opportunity to delve deeper into the unique culture and charm of The Golden City. 
There are plenty of non-profit organizations that do the tours by donation only. You can give tips at the end of each tour or through their website. The San Francisco City Guides Free is the city's oldest. They've been around since 1978 and offer over 80 walking tours. There are also Free Tours by Foot and Free SF Tour. Honestly, they're all good, and the guides are all great. You will learn a lot and have fun, too.
Picnic at Dolores Park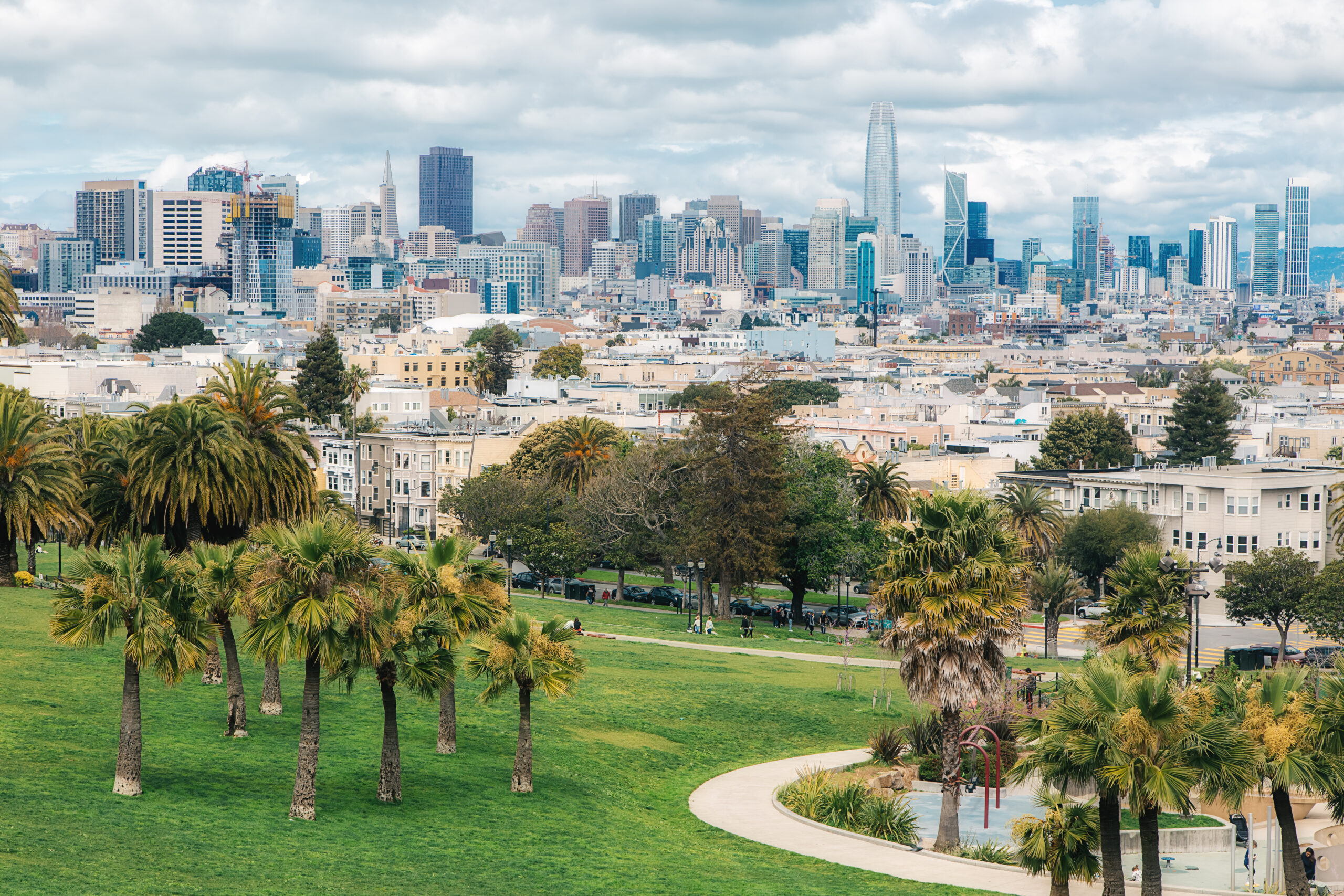 A day at Mission Dolores Park or just Dolores Park is another quintessential thing to do when the sun is up, and the fogs are at bay in San Francisco. If you want a real taste of true San Francisco community spirit, this is where you go. Pack a picnic, or get a burrito to-go, lay down a blanket, play some music, go for a run, meet friends, watch people and dogs, and just enjoy the vibes and scenic views of the city skyline. It's also a great place to catch sunrise or sunset.
Kayak under the Golden Gate Bridge during the sunset
For an exhilarating and memorable adventure, go kayaking under the iconic Golden Gate Bridge during the sunset! Witness the bridge's majestic structure while enjoying the vibrant colors of the setting sun painting the sky and the Full Moon rising above the rolling hills of the East Bay. You might even encounter marine wildlife such as seals, sea lions, or even dolphins as you paddle along the scenic Sausalito waterfront or San Francisco Bay.  
There are plenty of kayak rental companies in the area that offer guided tours and equipment. You don't need any prior kayaking experience for the tours either. You'll have knowledgeable guides who'll provide safety instructions and ensure that you have an enjoyable and memorable time on the water.
Take the ferry to Sausalito or Angel Island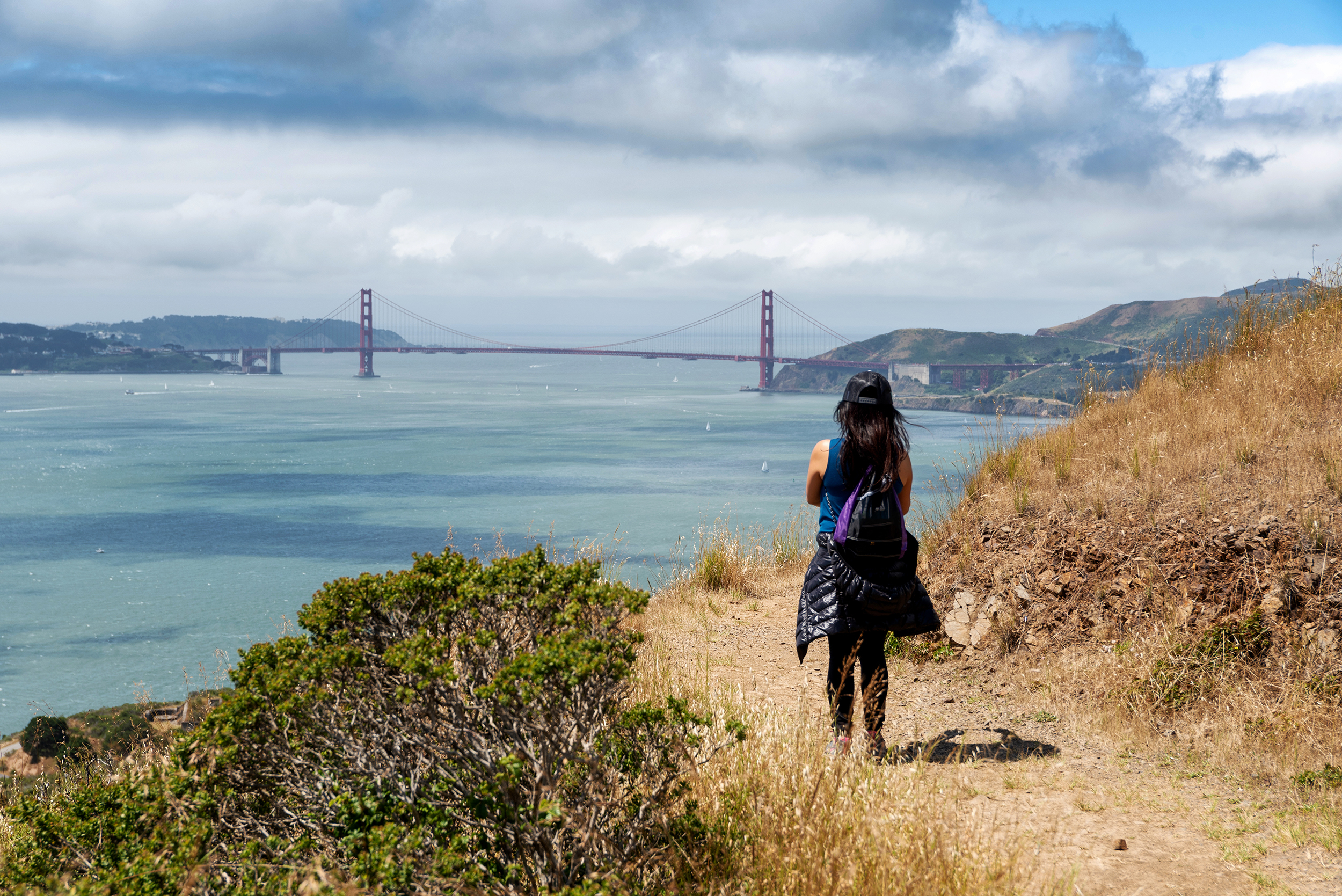 Take a ferry ride to either Sausalito or Angel Island and enjoy breathtaking views of the Golden Gate Bridge, the city skyline, and the city's natural beauty from a different perspective.
Located just across the bay from San Francisco, Sausalito is a charming waterfront town known for its picturesque views, art galleries, and quaint shops. Take a leisurely stroll along the waterfront promenade, explore the town's unique boutiques and art galleries, or indulge in delicious seafood at one of its many waterfront restaurants. Here's an idea: rent a bike and ride across the Golden Gate Bridge to Sausalito, then take the ferry back to the city. You'll be hitting two birds with one stone. Or two landmarks in one trip. 
Angel Island, on the other hand, offers a more adventurous experience. Known as the "Ellis Island of the West," this island served as an immigration station in the early 20th century and now stands as a state park. You can hike or bike through its scenic trails, enjoy a picnic with panoramic views of the bay, or take a guided tour to learn about its fascinating history.
The quest for the best burrito and dim sum
You've known about San Francisco's world-class cuisines, but the real deal about the city's food scene? Burritos and dim sum. Ask a local about the best burrito in San Francisco, and you're pretty much trying to start a fight. Here's the consensus: El Farolito, La Taqueria, Taqueria Cancun, El Faro, Taqueria El Castillito, and La Palma, too! Try them all and let us know what you think.
Now, the dim sum. Good Luck Dim Sum is quite famous, so there's a long line. Then you have Wing Lee, Dumpling Time at Design District, Dumpling Home, Dim Sum Club on Taraval, and Palette Tea House. Ah, there are too many.
***
Experience the timeless charm of Cornell Hotel de France during your 4th of July weekend in San Francisco. Originally built in 1910, this boutique Bed & Breakfast seamlessly combines elegant French Colonial architecture with modern comforts. Each floor showcases fine prints from avant-garde artists like Modigliani, Matisse, and Chagall, while the first floor pays homage to Jeanne D'Arc. 
Located in the prestigious Nob Hill neighborhood near Union Square, explore this charming neighborhood, filled with art galleries, historic landmarks, and the essence of "Old" San Francisco. Start your 4th of July getaway here. Book today!