History of the San Francisco Cable Car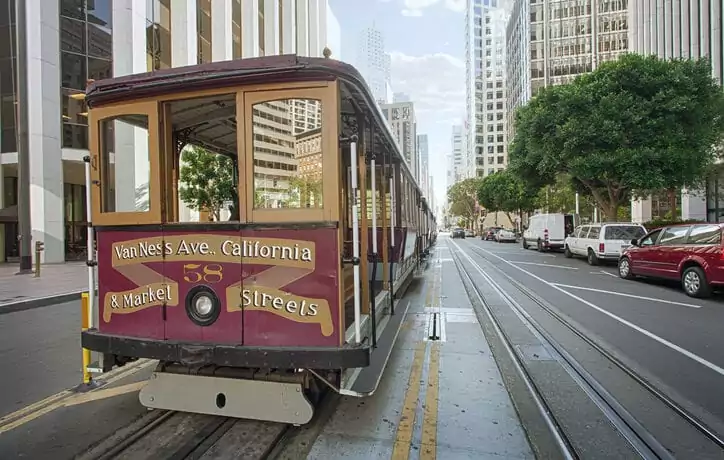 April 26, 2023
There are many iconic features unique to San Francisco, the Golden Gate Bridge, Alcatraz, Fisherman's Wharf, and of course the cable car. A trip to San Francisco really isn't complete without a ride on one of the city's most treasured landmarks. Discover below the history of the San Francisco cable car and why it has become such as the beloved icon of the Bay area.
HISTORY OF THE SAN FRANCISCO CABLE CAR
The history of the cable car began right here in San Francisco with its invention by Andrew Smith Hallidie in 1873. For more than 30 years it was the city's main transportation system and was sturdy enough to survive the San Francisco earthquake of 1906. In 1947 the cable cars almost saw their extinction. Due to other cheaper modes of transportation, there was a movement to get rid of all cable car lines. In response to this, a committee was formed to Save the Cable Cars. Today the San Francisco cable cars are recognized as a National Landmark and are a protected part of the city's history.
DIFFERENT CABLE CARS
San Francisco's cable cars run on two different systems. The California Street Cable Car line uses 12 large cars that offer open seating and a closed section in the middle. These cars are operational from either end, with a turnaround operated by a simple switch. The Powell Street lines, on the other hand, are smaller cable cars and operate from only one end. This requires a physical turntable to reverse the direction of the car at the end of the line. The cable car turnaround is located at the corner of Market Street and Powell Street. Visitors can watch as the operators leap out the car and slowly turn the car atop a revolving wooden platform.
VISIT THE CABLE CAR MUSEUM
To learn more about the history of the San Francisco cable car visit the Cable Car Museum in 
Nob Hill
. Learn more about the historical impact the cars have had on the city. View old photographs of some of the original lines and cars and even watch the actual cables turn, as they keep the cars moving up the hilly streets of San Francisco.
GOLDEN GATE HOTEL
Experience the San Francisco cable car with a stay at Golden Gate Hotel. Our boutique hotel near Union Square sits in front of one of the cable cars stops, making us an ideal location for exploring nearby neighborhoods and attractions such as Nob Hill, Fisherman's Wharf, and North Beach.  We are just six blocks from the cable car turnaround and the Powell/Market St. Station. Plus, our historic hotel offers the perfect way to experience the best of San Francisco. With unique features like our birdcage elevator, clawfoot tubs, bay windows, and decorative features, a stay at the Golden Gate Hotel is unlike anything else in the city. Discover our boutique hotel and 
book
 your stay with us today!