Make a Memorable Thanksgiving 2022 in San Francisco

April 28, 2023
"Every man should be allowed to love two cities: his own and San Francisco" - Gene Fowler 
There is nothing quite as magnetic as seeing the fog roll in over the hills of San Francisco. The city by the Bay is one with many faces and has a majestic appeal in all of its moods. A windy summer day brings sailboats out in full force, showing off their speed as they race under the bright red Golden Gate Bridge. A brisk winter sunset lights up the sky in a rainbow of colors and makes the magic of the city lights even more romantic. San Francisco is unlike any other, making it the perfect destination for an unforgettable
Thanksgiving weekend
getaway.
With its large diversity and eclectic neighborhoods, there is something for everyone in San Francisco — and finding a slice of home is an easy thing to do. No matter where home is! Whether you're celebrating
Thanksgiving 2022
with family or friends, the city has much to offer for visitors of all ages. Read on for a list of must-do
Thanksgiving activities
in San Francisco.
Make your way across the Golden Gate Bridge.
The Golden Gate Bridge is the most photographed bridge in the world, and when you see it, you'll understand why. The construction was a modern marvel at the time of its completion in 1937 as the longest bridge in the world, connecting the peninsula of San Francisco to the Marin Headlands of Marin County. Its bright red color strikes a remarkable contrast against the deep blue of the San Francisco Bay and the thick rolling fog that passes through its gates every morning and evening. It is truly unlike anything else.
For the athletically inclined, the Golden Gate is most remarkable when crossed by bike. Stop by Blazing Saddles on Columbus Street and rent a bike to cruise through the famous tourist spots of Fisherman's Wharf and the Embarcadero. Along the way, you'll see gatherings of native sea lions bathing in the sun, a giant pirate ship, and endless sailboats dot the waterfront piers all the way up to the Bridge. For an extra dose of adventure, continue down the hill towards Sausalito after crossing the Golden Gate Bridge and have lunch at one of the many local eateries in the charming seaside town. But don't worry, you don't have to ride your bike back! Take the local ferry from Sausalito back to San Francisco along with your bike and enjoy the sunset from the water.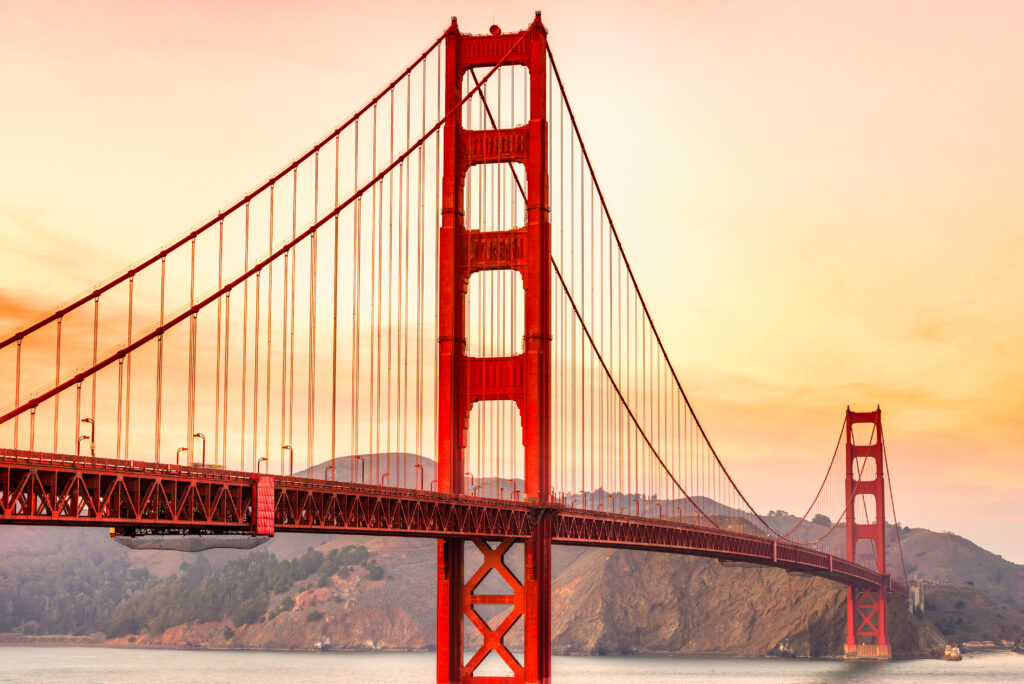 Take a trip back in time to Victorian London with lords and ladies in costume all around; Victorian holiday decorations to help you get in the holiday spirit; theaters, pubs, and dance halls to keep you entertained; hearty foods to keep you full; hot drinks to warm you up; and a great array of shops selling handcrafted treasures like ceramics, jewelry, toys, paintings, apothecaries, and more.
Located at the Cow Palace Exhibition Halls, The Great Dickens Christmas Fair is a 140,000 square feet wonderland.
You don't have to dress in full Victorian attire to join in the fun. Go on your usual wardrobe and maybe spice it up a little bit. Wear a long skirt, a corset, or a blouse. Then, accessorize with something Victorian, like a bonnet or a top hat. The fair is open for Five weekends, including
Thanksgiving weekend
on November 25, 26, and 27, from 10am to 6pm.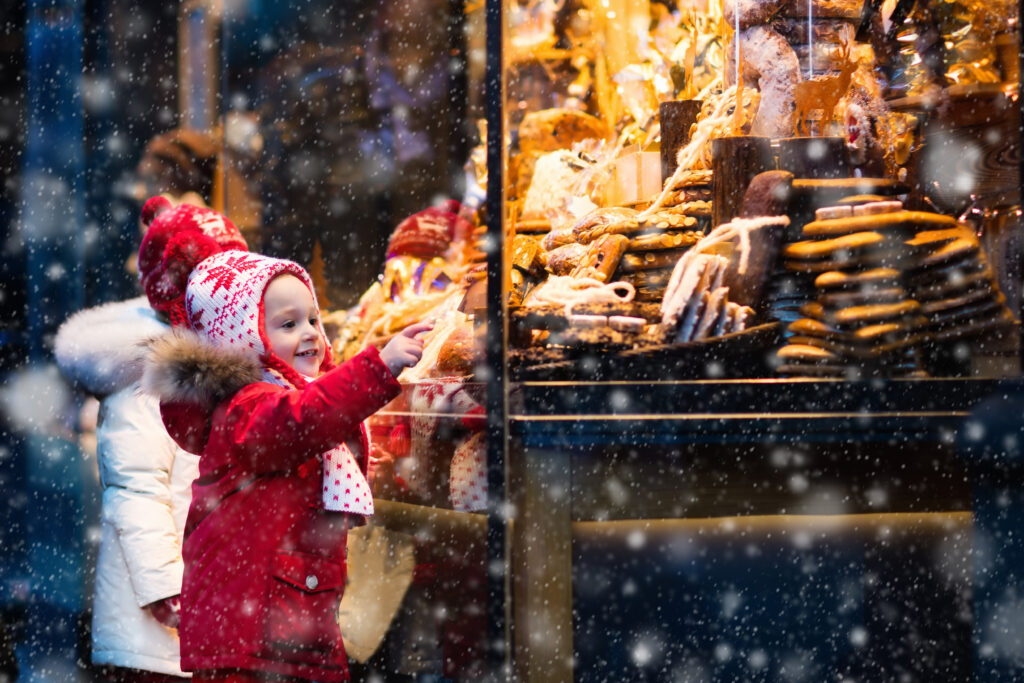 Work off a few calories on
Thanksgiving 2022
morning, November 24, before feasting on dinner at the annual San Francisco Turkey Trot. This annual
Thanksgiving event
is to attend when in San Francisco for
Thanksgiving weekend
. A family tradition running for 20 years now, bring your family and friends and head to Golden Gate Park for a fun run or walk in the park. The Kids' Gobbler Chase starts at 8am, and the Turkey Trail Trot and Pilgrim Promenade start at 8:40am. Registration for adults is $50, and kids can join for free for registered adults. 
Grassy meadows and dirt footpaths on a mostly flat natural terrain make up most of the trail, so it should be comfortable and relatively easy. Proceeds from the Thanksgiving run/walk will benefit the Lowell High School Track and Cross Country Teams, as it has since 2004. What an excellent way to start
Thanksgiving 2022
!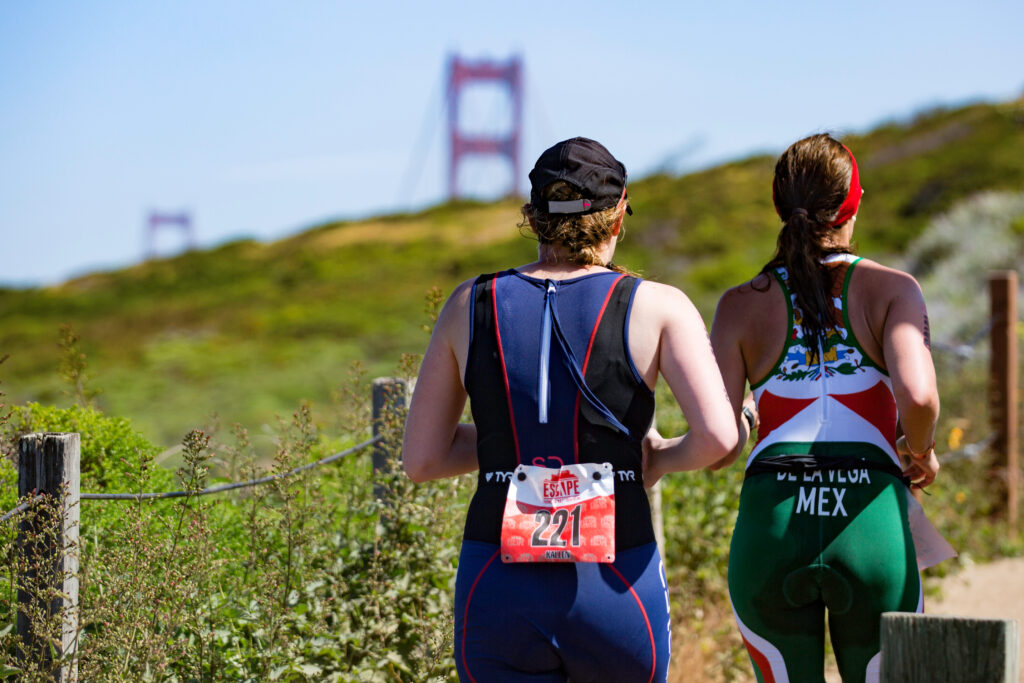 Winter Wanderland in Union Square
Just a short walk from Golden Gate Hotel, meander through
Winter Wanderland at the Hallidie Plaza
at Union Square on
Thanksgiving 2022
weekend. Open from November 25 to December 24 from 10am to 8pm, it's a month-long celebration of San Francisco culture, community, and holiday spirit. The square will light up with thousands of dazzling lights and ornaments. Christmas carols and the smell of holiday treats and warm drinks prepared by local food makers will fill the air. Local artists and musicians will be performing your favorite holiday classics. And the best artists and artisans in the area will display their handcrafted gifts for you to take home! It's the perfect place for your Black Friday shopping.
Don't forget to stop by the
Safeway H
oliday Ice Rink in Union Square
for ice skating for all ages, and the Macy's Holiday Tree for a photo op, too! The Hallidie Plaza is located at the entrance to Powell Street Station on Market Street in the Union Square area.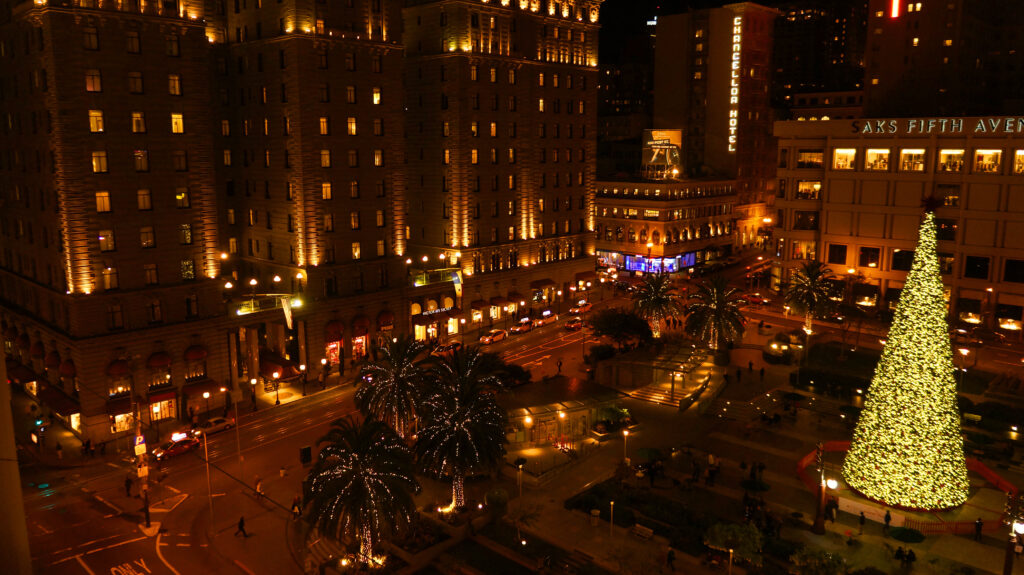 Celebrate peace and love in the Haight Ashbury District
Looking back on San Francisco's rich history, there is much to be thankful for. Haight Ashbury, otherwise known as The Haight, became a haven for the counterculture community of the 1960s and was home to many famous artists, singers, and revolutionaries. Today, the neighborhood is less reminiscent of tie-dyed hippie culture. However, you will still find the eclectic street corner perfect for people-watching, delicious vegetarian restaurants, and fortune tellers. 
Take a stroll around The Haight and then head towards the Pacific as you weave your way through Golden Gate Park. There are endless walking paths that take you past the famous Japanese Tea Gardens, The DeYoung Museum, and the California Academy of Sciences. You may even hop on a peddle boat at Stow Lake and feed the bright white geese walking past.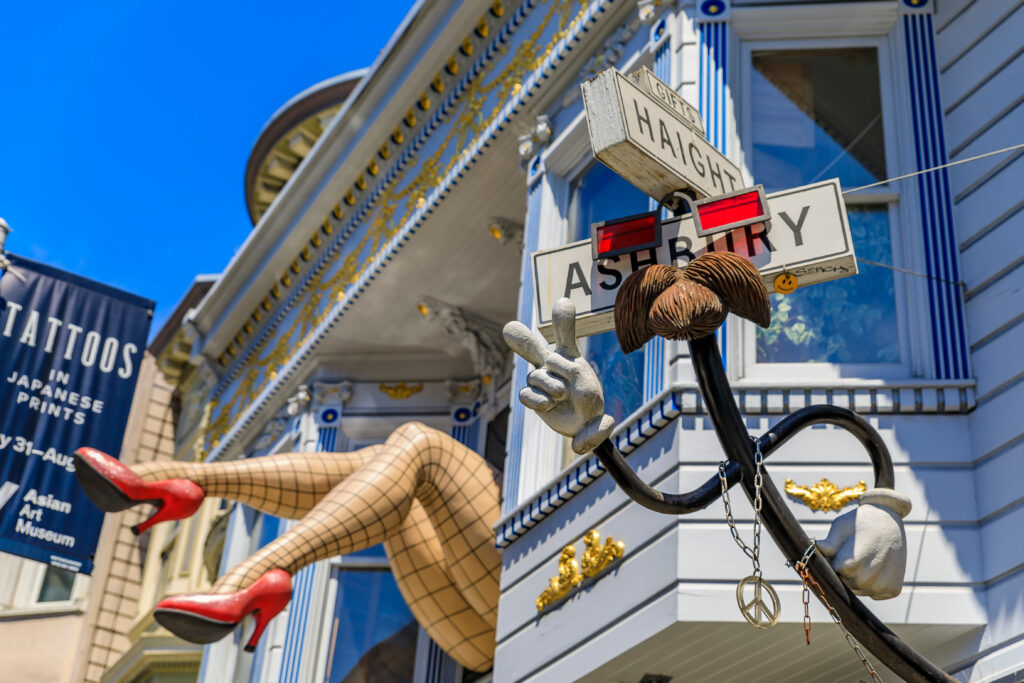 Turkey or tofu? Plan your
Thanksgiving dinner
in San Francisco
It is no secret that San Francisco is a place for foodies and the best thing to actually do in San Francisco is…eat! Planning your
Thanksgiving dinner
is fun in the city, as the options are truly endless. For a more traditional approach, book a table at
The Presidio Social Club
. Located in the heart of San Francisco's only forest, you'll dine in a dimly lit candle setting with towering eucalyptus trees all around. The cocktails are fantastic, so be sure to take a taxi back to the hotel!
If you would rather dive into the counterculture and have a truly unique
San Francisco Thanksgiving
, head towards the Mission District, where you'll find authentic Mexican cuisine, Columbus Street - or "Little Italy" as locals call it - for fine Italian fare, or even the Inner Richmond for Chinese dumplings you just can't resist. Just because you're away from home this
Thanksgiving 2022
doesn't have to mean you're skipping your
Thanksgiving dinner
.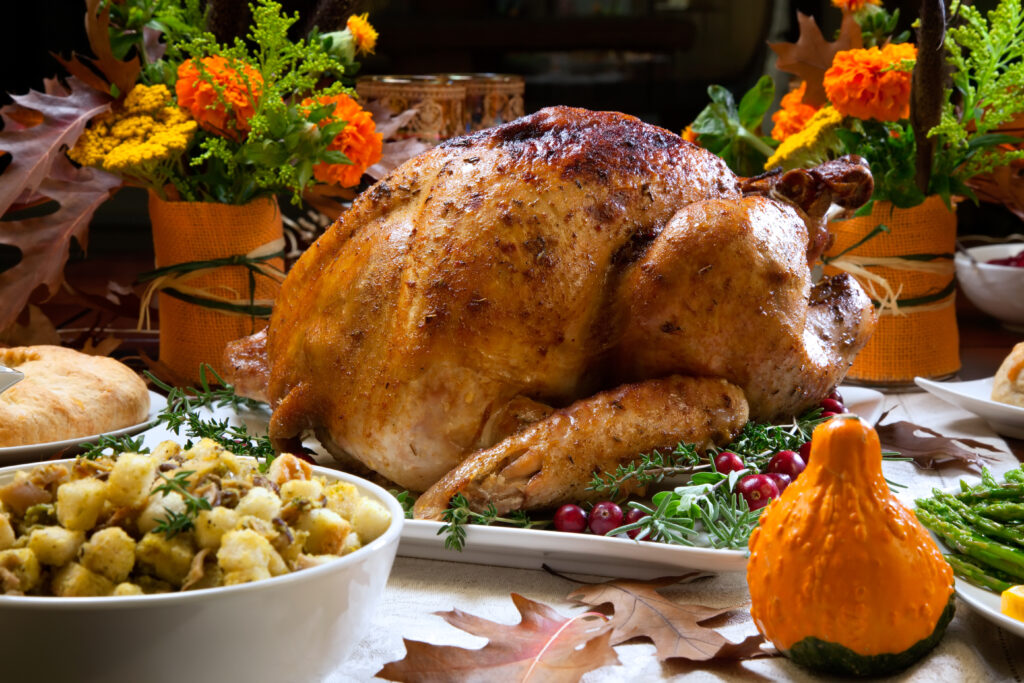 Take a local hike
While San Francisco is a cosmopolitan city, don't be fooled by the big buildings and bright lights. The great outdoors are completely within reach…and you don't even have to leave the city! Walk off your big Thanksgiving meal with a hike at the Lands End Trail. It is welcoming for all ages and a beautiful way to spend a day in the city. Grab a cup of coffee, walk along the water's edge and spin through the rock labyrinth overlooking the crashing waves of the Pacific.
Head across the Golden Gate Bridge once more and spend the day exploring the endless trails in the Marin Headlands and Tamalpais Valley. Make sure to bring a windbreaker or an extra scarf - when the wind picks up, the chill bites!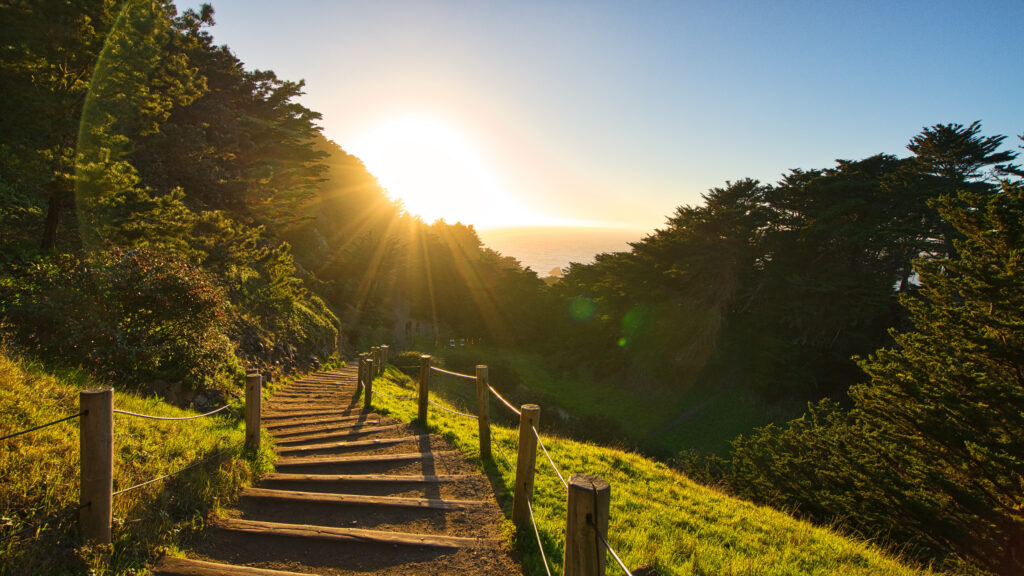 Get down with science at the Exploratorium
No family trip to San Francisco is complete without a visit to the Exploratorium. The arts, technology and science museum is far from your traditional museum. At the Exploratorium, kids of all ages are encouraged to ignite all the senses and play with the over 600 interactive exhibits on display. Make sure to visit during the GLOW Fest - a dynamic exhibit of light and laser art during the holiday season.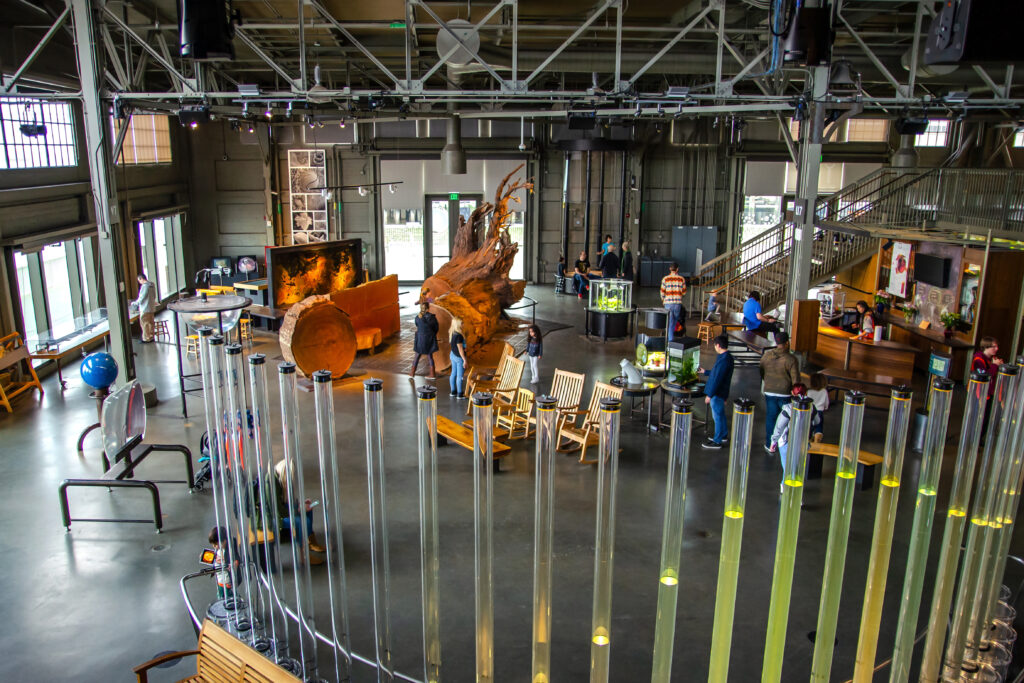 _________________________________________________________________________________________________________
After full days exploring the vastness of San Francisco's vibrant culture on
Thanksgiving 2022
, you'll be extra thankful to have a cozy place to call home base. The Golden Gate Hotel is a nod to a bygone era - each of the 23 guest rooms boasting a unique and retro charm. Enjoy a long soak for tired legs in our European claw-foot bathtubs or cozy up by the fireplace for a traditional breakfast served in the parlor. Book now and secure your stay for your
Thanksgiving weekend
getaway in San Francisco!