Your San Francisco Bucket List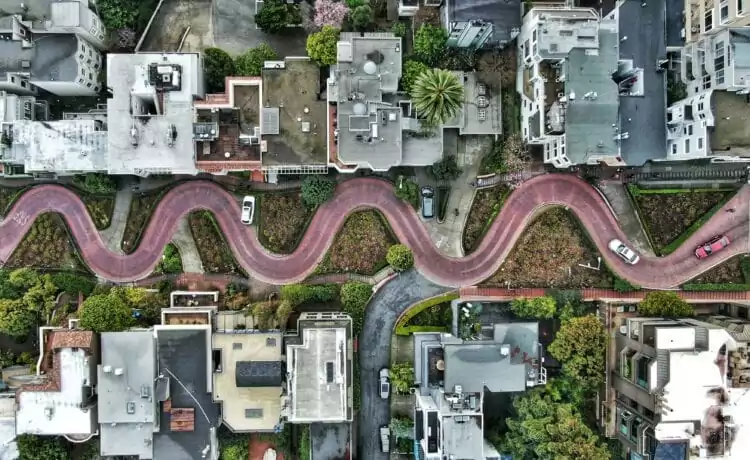 April 28, 2023
Can't decide on what to do when you visit San Francisco? With so much to do and see, it can be a bit overwhelming to cram it all in when you are on limited vacation. To help, we've created a San Francisco Bucket List for you to use when planning your trip.
RIDE A CABLE CAR
The San Francisco cable cars are one of the most iconic landmarks in the city. Whether you use them for your mode of transportation or for a fun afternoon activity, they are an enjoyable way to get around the city. Read here for more about the 
history of the cable car
.
VISIT THE ICE CREAM MUSEUM
Less than half a mile from the 
Golden Gate Hotel
 is the Ice Cream Museum. This immersive art experience features imaginative, multi-sensory installations all centered around ice cream and its universal power to connect us all.
WALK THE CYPRESS TREE TUNNEL
Visit the Point Reyes National Seashore and take a walk through the Cypress Tree Tunnel. It's like something out of a fairytale.
VISIT A PARK HIGH IN THE SKY
Walk amongst green space and an urban oasis atop the Sales Force Transit Center. The 5.4-acre park features trees, gardens, and a walking path. There is also a gondola that will take visitors from street level to the rooftop garden.
WALK OR BIKE ACROSS THE GOLDEN GATE BRIDGE
The 
Golden Gate Bridge
 is an iconic landmark of San Francisco. Gain a different perspective of the bridge by walking or biking across to get a better understanding of what makes this bridge so special and unique.
EAT DIM SUM IN CHINATOWN
While a visit to Chinatown during your stay in San Francisco is a must, eating dim sum is one of the best ways to experience the culture and food of Chinatown. Check out the Dim Sum Bistro or Hang Ah Dim Sum Tea House to start your dim sum journey.
DRIVE THE CROOKED LOMBARD ST.
Named as the "crookedest street in the world," Lombard Street is one of the most photographed streets in America and is an iconic San Francisco attraction. The street is famous for its steep, one-block section that challenges drivers with eight tight turns. The original design was intended to reduce the steep grade of the hill, which was originally too steep for most vehicles to drive.
VISIT THE PAINTED LADIES
Designated a historical landmark, the colorful homes of Alamo Square's famous "postcard row" is a beautiful representation of Victorian homes from the Queen Anne era. Spend the afternoon relaxing in the square and admire the details of what makes these homes so unique.
VISIT THE SEA LIONS AT PIER 39
As part of 
Fisherman's Wharf
, Pier 39 is a must-add to your San Francisco bucket list. Home to the famous barking sea lions, Pier 39 is also home to restaurants, shops, and other activities – making for a great afternoon outing.
GRAB A DONUT AT BOB'S DONUTS
A San Francisco tradition, Bob's Donuts is open 24 hours a day, every day, so grab a donut anytime.
BUY A BOOK AT CITY LIGHTS BOOKSELLERS & PUBLISHERS
For those rainy, foggy San Francisco days, curl up with a book at the quaint bookstore; City Lights Booksellers & Publishers.
STROLL THROUGH LOVER'S LANE
Visit the Presidio and enjoy an enchanting and relaxing walk through Lover's Lane. As the oldest footpath through the Presidio, dating back to the 18th century, today it is filled with joggers, walkers, bird watchers, and those seeking a bit of peace and quiet away from the city.
SPOT A WINDMILL IN THE MIDDLE OF THE CITY
Golden Gate Park is home to two windmills within the park grounds. The 115-year-old Dutch windmill and the 15-year-old Murphy Windmill are located at the western end of the park.
TAKE A TOUR OF ALCATRAZ
The infamous Alcatraz prison is one San Francisco attraction that is best experienced with a tour. Take a ferry ride over to Angel Island and discover the secrets of this once maximum security prison. Find out more about tour information
 here
.
WALK THE 16TH AVE. TILE STEPS
Get your exercise and view beautiful artwork all at the same time. The 16th Ave. steps are famous for their colorful tiled steps that make a stunning pattern of shapes and symbols. The Lincoln park stairs are another great option for a colorful walk.
VISIT THE TROPICS
No need to leave the city for a trip to the tropics. Stop in at the Tonga Room & Hurricane Bar for a Mai Tai or your favorite tropical drink, all while you enjoy the sounds of a rainstorm at the tiki bar.
WALK THE LABYRINTH AT LAND'S END
The Labyrinth is a beautiful display of rocks set in a maze-like pattern just off Mile Rock Beach. The walk is about a mile long and offers beautiful waterfront views.
SHOP AT SAN FRANCISCO UNION SQUARE
Spend the day shopping at your favorite stores at San Francisco's 
Union Square
. Home to the classic Macy's flagship store and plenty of high-end retailers, Union Square also offers restaurants and other activities to complete your shopping experience.
STAY AT THE GOLDEN GATE HOTEL
Complete your San Francisco bucket list with a stay at the Golden Gate Hotel. Located just a few blocks from Union Square, our boutique hotel is conveniently located to many San Francisco area attractions. Our 23 guest 
rooms
 are uniquely decorated with antiques, original art, and comfortable surroundings. Enjoy a complimentary breakfast every morning, afternoon tea, and modern amenities to complete your stay. Start planning your San Francisco getaway and book your stay with us today!