If you haven't heard yet, Golden Gate Hotel has a new fur baby! Some of our previous guests might remember him fondly. We miss Pip loads. He was a legend and brought plenty of smiles and joy to a lot of our guests, but we really wanted to get a new rescue cat again. It was about time, so we did!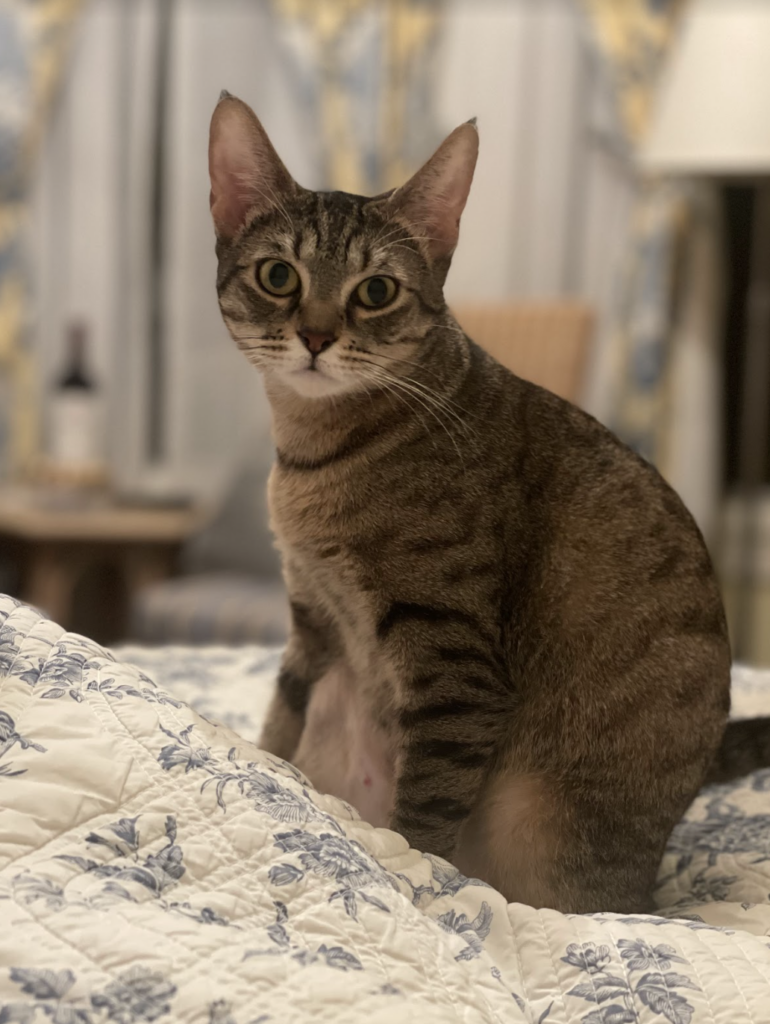 We're so excited to have Skittles as a part of the Golden Gate family. She's been living here since December, and she's already made quite the impression on the other staff members and guests alike. 
Skittles is a sweet and charming 3-year-old tabby cat adopted from the San Francisco SPCA. 
Last December, we did a giveaway on Instagram to help decide her name, and @jodi_goatcher won the giveaway! She was treated to a 2-night stay with complimentary continental breakfast and afternoon tea and cookies for two at our hotel for her tremendous help! It's not easy finding your fur baby a name, and we wanted our guests to be a part of the experience. 
Skittles has settled right into her new home with us here at the hotel. We absolutely love her, and she's already grown to become a very important member of our family. She's been spreading so much happiness around, and she's been a big part of making our guests feel at home.
A Little History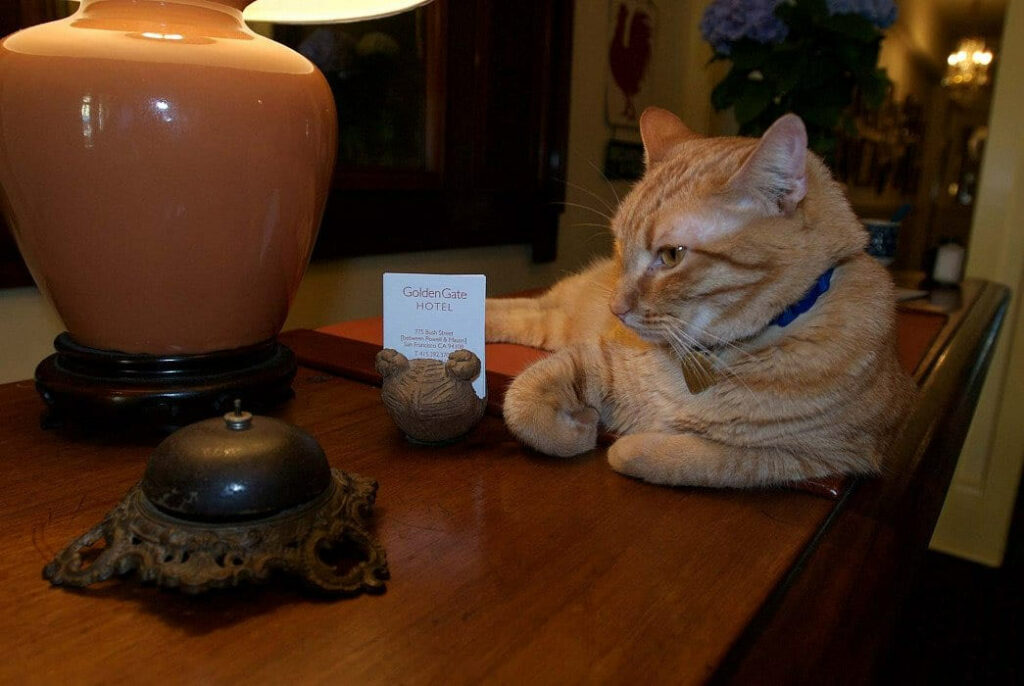 We've long been known as a pet-friendly hotel in San Francisco and we've always had a cat. They were always a part of what made our hotel place special. Our guests love having them around to cuddle, and play with their own fur babies too. 
Our first cat was a rescue named Captain Nemo. After he passed, we got a new rescue again, and through a contest with hotel guests, we called him Pip! 
Pip was an institution himself here at Golden Gate Hotel. He was a massive part of the Golden Gate family. We even have guests from around the world who always stay with us because they can't get enough of Pip, and new guests coming to stay too because they've heard of him. 
He was very special to all of us at Golden Gate. 
He was just the sweetest! He would accompany guests for breakfast and tea… help give them a tour of their rooms… and greet them with kisses, too!
Sadly, Pip passed a few years ago. We know that some of you have been asking about the cats lately and why there hasn't been one roaming around anymore. It's because we've been trying to look for the right time to adopt again. It's not an easy task. But now we've made the move and we have Skittles. <3
Learn more about San Francisco SPCA
We worked with the San Francisco SPCA to make adopting a new cat happen. Why buy when there's plenty of animals out there who need love and shelter? We absolutely love what the organization does and support their causes. We also can't thank them enough for helping us match with Skittles.
The San Francisco SPCA is a nonprofit organization that works tirelessly to improve the lives of animals in need. Their mission is "to ensure every companion animal has access to quality medical care, compassionate shelter, and a loving home," and they do this by providing a safe haven for homeless animals, as well as high-quality veterinary care and adoption services. They are also a huge advocate for animal welfare laws, and they help educate the public on responsible pet ownership. 
If you're looking to add a furry friend to your family and, or if you'd like to make sure your current pet is well taken care of, make sure to check out their website to know more about what they do, how you can adopt from SF SPCFA and avail of their veterinary services.

Golden Gate hotel is a pet-friendly hotel in San Francisco
At the Golden Gate hotel, we love pets as much as you do. When you stay with us, you can bring your four-legged friend along with you—and they'll be treated like royalty, just like Skittles! We know how much you love your furry friends, and we want to make sure they have a home away from home while you're in San Francisco.
Built in 1913, our historic property is one of the oldest and best hotels in San Francisco. It has been renovated to maintain its original charm while adding modern touches like Wi-Fi and LCD TVs. The hotel exudes a retro vibe decor with antique furnishings and distinctive artwork, plus a vintage bird-cage elevator.
All our 23 guest rooms also have their own distinctive design and décor. No two rooms are alike in our hotel in San Francisco Union Square! From adjoined family rooms with shared bathrooms to private European-style rooms with en-suite bathrooms (many of which have original claw-foot tubs), our family and pet friendly hotel in San Francisco guarantees a restful sleep for you and your loved ones. 
Centrally located up the hill from San Francisco Union Square, between Nob Hill and just a few blocks from Chinatown, our  location is perfect for exploring all of San Francisco's attractions.
If you come to stay at the Golden Gate Hotel, make sure you meet Skittles and bring your fur babies with you!